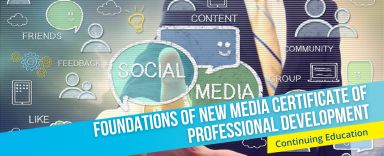 The University of Lethbridge is pleased to create short-term, stackable, micro-credential opportunities for individuals interested in gaining competencies to support them moving into the Film Industry in Alberta. The New Media modules in this micro-credential are designed to be taken either individually (based on interest) to complete badges of recognition, or as a cluster where upon completion a Certificate of Professional Development is awarded.
Students will learn to think critically about contemporary media culture and their own role as media users (both as individuals and in groups). Learners will acquire foundational skills in visual design, web design, digital video storytelling and editing, digital culture and communication and mobile media production.
Each course can be taken independently, or altogether to further deepen student knowledge. Once all 5 courses have been completed students will receive a Certificate of Professional Development.
The University of Lethbridge Foundations of New Media Certificate of Professional Development is perfect if you:
Already work, or aspire to work, in digital media
Use creative software at your workplace for digital marketing, web development or design
Freelance, or aspire to freelance, in photography, video or web development and design
Run a small business where the marketing or content development department is only you
---
This new non-credit micro-credential is an introduction to the world of New Media, with a focus on creating media that is engaging, relevant, and meaningful. These courses combine theory and hands-on experience - perfect for total beginners or those with a bit of experience behind them.
Interested in learning more about our new Foundations of New Media micro-credential?